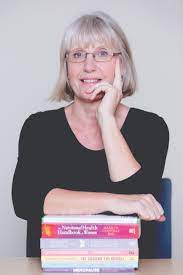 Live event: Transforming Your Menopause – Turning Bitter Into Sweet
Date: Thursday 23rd March 2023
Time: 6:30pm – 9:15pm
Venue: Gym Café, Swan Leisure, Rathmines Square, 161 Rathmines Rd Lower, Dublin 6, Ireland
Ticket Price: €20
Are you worried about the symptoms of the perimenopause or menopause?
Concerned about the possible side effects of HRT and whether it's safe for you?
Do you want to know how to prevent and treat osteoporosis naturally?
Then don't miss this opportunity to join Dr Marilyn Glenville PhD, the UK's leading nutritionist specialising in women's health and the menopause for this in-person talk.
————
Did you know?
Going through the menopause doesn't mean you have to endure night sweats that leave you drenched, uncomfortable, and exhausted.
You don't have to suffer with hot flushes, ageing skin, joint pains, loss of concentration, vaginal dryness, and memory changes.
Your sex life doesn't have to come grinding to a halt, and you don't have to worry about bursting into tears or riding a rollercoaster of emotions.
Come to this talk and find out how you can coast through a symptom-free menopause, and enjoy a long, full, happy, and healthy life beyond it.

This special live In Person Event is a breakthrough approach to the perimenopause and menopause: giving you choice, control, and freedom.
During this event, you'll discover:
What happens to your hormones at the menopause?
What is the perimenopause and when does this start?
Why some of your menopause symptoms may NOT actually be related to the menopause
The pros and cons of HRT will be discussed and the use of bioidentical/body identical hormones.
How to reduce or even eliminate your debilitating menopause symptoms so you can enjoy life again
What are phytoestrogens and should you be eating them especially if you are using HRT and which phytoestrogens should you avoid
Why your blood sugar plays such a huge role in the menopause, and what you can do to ensure you don't suffer damaging sugar crashes
The vitamins and minerals doctors never talk about which combat your mood swings, anxiety, and hot flushes
The most important tests you should have at this stage in your life to help protect your health for the future
This talk is for you if you're approaching or experiencing the perimenopause or menopause, and you're struggling with common symptoms that affect the quality of your life.
You may be taking HRT and thinking about coming off it and want to know what natural remedies to take instead.
Or you are happy taking HRT but want to know what to eat and what supplements to take for your general health.
During this talk, Dr. Glenville will show you how to transform your menopause where you:
Feel full of energy and life
Feel sexy and confident.
Feel healthy, vital, and excited to enter the next stage of your life!
As a woman, you can now live to up to 30 to 50 years past the menopause. With such a promising stretch of years ahead of you it is good to know what you can do to keep yourself healthy both physically and mentally.
Dr Marilyn Glenville PhD will be joined by Heather Leeson, BA (Hons), DipNT, mNTOI, who is Director and Senior Nutritionist with Glenville Nutrition Ireland and one of the most  experienced nutritional therapists in the country.  Heather will be sharing a Menopause Case Study with you.
There will also be time for your questions for Dr. Glenville and Heathyer so this is your chance to ask her about your own situation or symptoms.
Buy your ticket here.