It can be tempting to go for a quick-fix diet, especially at this time of year with the weather finally warming up.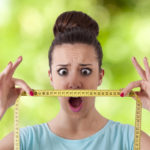 But research shows again and again that fad diets are not only ineffective but can be downright dangerous.
How to tell if it's a fad diet
Does it promise a quick fix, especially an easy one with no exercise? Like with most things in life, if it sounds to good to be true, it probably is…
Does someone stand to make lots of money from it e.g. meal replacement manufacturers?
Is the approach supported by proper research?  If not, be wary.