We are passionate about making healthy eating fun for children and their parents. We offer a comprehensive programme for primary and secondary schools including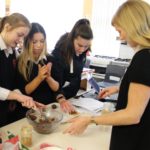 PTA Nutrition talks for parents
Interactive talks and food demonstrations for children
Work sheets and activities
We offer discounted prices for schools, clubs and not-for-profit organisations. To find out more, call us on 01 4020777 or email info@glenvillenutrition.ie
Some comments from previous customers
"We were thrilled recently when Heather Leeson gave a talk on "Healthy eating for children" at our recent parent's night. She not only highlighted the potential dangers of feeding our children the much in demand processed food today but armed our parents with handy tips and hints on what to actually do about it. Parents left feeling more motivated and knowlegeable on what to feed their children. What was really impressive was the research that she put in the presentation in terms of time spend reading labels etc. Any school or organisation would benefit hugely from hearing this information"
Aoife Dunican and Marion Gibbons – Chair persons of Sandford Parish National School PTA., Dublin
"Just to say thank you very much for your excellent presentation. Parents were very impressed by you and delighted to get re-focused on healthy eating. We all need the reminder. I know you had limited time and there were plenty of questions, but you managed it brilliantly. Thanks again".
Keelin, PTA St Mary's Boys National School, Maynooth
"We were delighted to have Heather talk to us and it is something we would like to re-visit again in the new school year. We would also think there could be benefit to Heather talking to some of the older classes. With perhaps a focus on how healthy eating keeps them going through long school days – and how important it is not to have too much sugar but opt for foods that will keep energy going throughout the day. The parents attending found the information on food labelling very informative and enables them to make better food choices. Interesting tips such as more vegetables, good fats and variety were very good. Also the handout sheets were very informative and a good reference to revert to the weeks after the talk".
Mary Rose Goddard, Scoil Bhride PTA, Dublin