Cookery classes in Galway coming soon

Making healthier cooking easier….

Want some ideas for easy healthy food and some tips for cleaning up your diet for good?  Join one of our practical classes for healthy recipes and plenty of nutrition advice along the way.  Next Cookery class takes place in Donnybrook Fair Cookery School in Spring 2018.  Please call us on 01 4020777 and will will contact you when details are available.

Get your kids into the kitchen!

Glenville Nutrition have teamed up with The Donnybrook Fair Cookery School for this year's kids and teens cookery camps.  We will be showing how easy and tasty it is to eat healthily and encouraging all participants to get involved and try some healthy food.  The display shown here showcases fresh veggie sticks, wholegrain pitta chips and red pesto dip, all made by 2 of our fantastic participants this summer.
The votes are in!
Thanks to all of you for the wonderful feedback from our last class. Sounds like you had as much fun as we did!  As promised, we are putting up the two most popular recipes from the last class.  They are
savoury pumpkin seeds
These omega 3-rich seeds are great as a snack or sprinkled on soups and salads.  Ready in 3 minutes, the ultimate fast food!
2. Quinoa salad with radish and toasted hazelnuts.
Participants loved the taste of this substantial salad, the fact that you can adjust the recipe depending on what ingredients you have at home and also because it makes the perfect desktop lunch the next day.
If you would like a copy of these recipes to try yourself, just email us on info@glenvillenutrition.ie
 See one of our classes in action here.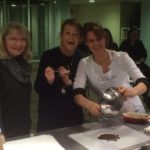 What people have said about our cookery classes
"information, accessible and good fun", Anne, Dublin
"the food was all delicious and I learnt lots of good nutrition information too.  Really enjoyed it, thank you ", Mary, Wicklow
"I loved the class and learnt so much.  Heather gave us lots of tips and information along the way and I can't wait to try out the recipes at home. I highly recommend these classes and will be booking on the next one", Lisa, Dublin
"It just proves it can be done – cook healthy, tasty dishes in a short period of time". Paul, Dublin
"wanted to let you know that I have been cooking the class recipes all of the time, especially the Thai fish cakes and Asian coleslaw. Going down a treat with the family. Thanks for a great class and the nutrition tips and advice", Vicki, Dublin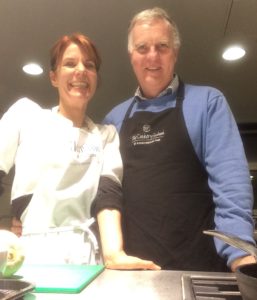 "I am delighted that Heather Leeson of Glenville Nutrition is an integral part of our class scheduling here at the Cookery School at Donnybrook Fair. There is a growing interest in nutrition and a deep desire to understand the food we eat and how it impacts on our health, so it's very important for us to work with an expert in this area. Heather has that great gift to communicate, educate and inform in a relaxed class environment and our clients leave the school with a much better understanding of nutrition and amazing recipes that are easy to recreate at home."  Niall Molloy, head chef and owner Donnybrook Fair Cookery School